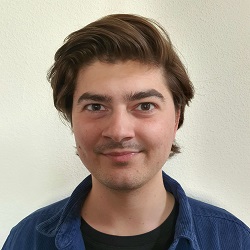 My main research interest lies in the area of affective processing, which is something that drives us on a daily basis. I am intrigued about the question how the mechanisms involved can deviate on a behavioral and neural level and may manifest themselves in stress-related and affective disorders such as PTSD, anxiety disorders or depression.
I joined the CAN lab for my CNS master project in which I currently work on an effort-based decision-making task under the supervision of dr. Eliana Vassena. We aim to apply computational phenotyping of motivation for affective disorders.
Before joining the CAN lab, I completed an internship at the Max Planck Institute of Psychiatry in the context of a different Psychology Master program, where I worked on a project concerning the development of PTSD. This internship showed me once more that the intersection between affective neuroscience and clinical psychology is what interests me the most.
In my free time, I enjoy pretty much every sport where a ball is involved – so if you are up for it, come and challenge me.
---
Contact
Kapittelweg 29
6525 EN Nijmegen
The Netherlands
Donders Institute for Brain, Cognition and Behaviour
Radboud University Medical Center
P.O. Box 9101
6500 HB Nijmegen
The Netherlands