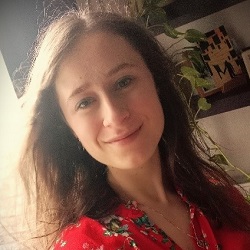 I am tremendously interested in the diversity between people in the broad sense of the word, but particularly in what makes one more prone to developing and maintaining neuro psychopathologies than others. Furthermore, I am highly interested in how research can contribute to developing more personalized treatment, taking the diversity between individuals into account.
As an intern, I will be part of the CovoS study for the next five months, I am sure I can learn a lot during my internship period and I am very keen to work with this research team.
Currently, I am doing the medical neuroscience specialization within the biomedical sciences master's degree. Furthermore, I have a background in physiotherapy, during my bachelor I had the possibility to follow the minor neurorehabilitation in Austria. After working a year as a physiotherapist I started the premaster biomedical sciences, including the minor 'Neuroscience of stress related psychopathology'.
Besides spending a lot of time studying, which I enjoy, I furthermore love to climb and visit festivals. With the remaining hours of the month, I like to go to the mountains and to art exhibitions with friends.
---
Contact
Kapittelweg 29
6525 EN Nijmegen
The Netherlands
Donders Institute for Brain, Cognition and Behaviour
Radboud University Medical Center
P.O. Box 9101
6500 HB Nijmegen
The Netherlands