Antigoni Chartofyli
Trainee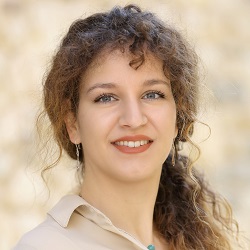 My name is Antigoni Chartofyli and I am doing a volunteering Internship via the Erasmus Program on the MindRest Project. After experiencing for myself the positive effects of meditation, I am very excited and interested in finding out whether Mindfulness-Based Stress Reduction (MBSR) can actually influence and affect the stress levels in students.
I originally come from Greece, where I finished my Bachelor's studies in Psychology at the University of Ioannina. During my studies, I did two more internships throughout the years, one in the psychiatric department for children & adolescents at the General Hospital of Thessaloniki "G. Papanikolaou" and another one in a Non-governmental Organization, called ARSIS, concerning unaccompanied minor refugees and other vulnerable groups of the Epirus region.
On a personal note, I like trying new tastes and exploring new places. In my free time, I like doing sports, drawing and participating in social activities.
---
Contact
Kapittelweg 29
6525 EN Nijmegen
The Netherlands
Donders Institute for Brain, Cognition and Behaviour
Radboud University Medical Center
P.O. Box 9101
6500 HB Nijmegen
The Netherlands