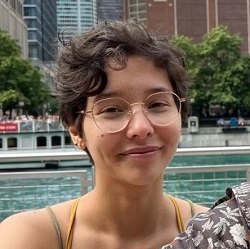 I am currently working with Nikos and the Stress team in the MindRest project, which fits well with my general interest in cognitive-affective neuroscience, specifically with regards to the mechanisms of mindfulness and the effects of childhood maltreatment on stress regulation.
As a research intern, I assist with data collection and recruitment. I'll be using baseline measurements from this project for my thesis on how trait mindfulness might protect against the negative effects of childhood maltreatment on stress regulation, with a focus on emotional regulation and the dynamic response of the default mode, executive control, and salience networks. My future goal in research is to investigate the developmental aspects of stress sensitivity, with a focus on social stressors and the effects of mindfulness-related traits and skills, and physical and mental health outcomes.
Currently I'm in my second year of the RMSc. of Cognitive Neuroscience, in the Lifelong Development and Plasticity track here at the Radboud University. Before this I got my BSc. of Biology with a minor in neurobiology from the RU. Until recently I was a student assistant at the Baby and Child Research Center in the BabyBRAIN group, where I assisted with recruitment and data collection for motion tracking and eye-tracking studies with infants and toddlers. Before moving to the Netherlands, I grew up mostly in California, where I studied dance and then biochemistry, and worked as a dance teacher.
In my free time, I enjoy illustrating, bouldering, reading, dancing, and spending time with friends and family.
---
Contact
Kapittelweg 29
6525 EN Nijmegen
The Netherlands
Donders Institute for Brain, Cognition and Behaviour
Radboud University Medical Center
P.O. Box 9101
6500 HB Nijmegen
The Netherlands