Franka Snellenburg
Trainee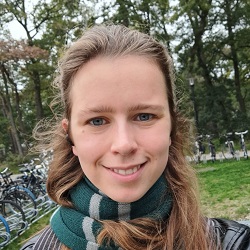 My main interests lie around the human experience and why we do what we do. I'm intrigued in how neuroscientific research can add to our understanding of motivation. What conclusions can we actually draw from our data and what do our findings imply for our worldview?
I'm currently in my last year of the CNS master's program. I joined the CAN lab for my master's project, which I'm doing on the DANDY project under the supervision of dr. Eliana Vassena. Here, I am working on analysing the behavioural, pupillary, and fMRI data of a task that measures willingness to exert effort. I hope to learn more about what motivation and effort entail conceptually, as well as how to properly analyse and interpret data.
Before joining the CAN lab, I completed a bachelor's in psychology with a double minor in developmental psychology and neuropsychology. Additionally, I followed courses from the faculties of philosophy and of law. My final thesis was on the relationship between narcissistic traits and police perception.
In my free time, I enjoy going to the climbing gym, spending time in nature, and reading.
---
Contact
Kapittelweg 29
6525 EN Nijmegen
The Netherlands
Donders Institute for Brain, Cognition and Behaviour
Radboud University Medical Center
P.O. Box 9101
6500 HB Nijmegen
The Netherlands