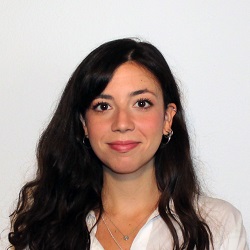 Hola! I'm currently part of the Dandy project, being supervised by dr. Eliana Vassena. My research interests are still quite broad, but I'd like to work on topics which combine decision making and psychopathology. I'm also very motivated to learn more about different research methods and data analysis.
I obtained my bachelor's degree in Psychology at the University of Sevilla and now I'm in my second year of the research master in Behavioural Science at Radboud University. Before starting my master programme, I had some experience in different fields within applied psychology (such as child clinical practice, social services and cognitive stimulation of people with intellectual disabilities), but I found myself more comfortable behind the scenes.
When I have free time, I love to roll skate, paint or hang out with friends.
---
Contact
Kapittelweg 29
6525 EN Nijmegen
The Netherlands
Donders Institute for Brain, Cognition and Behaviour
Radboud University Medical Center
P.O. Box 9101
6500 HB Nijmegen
The Netherlands