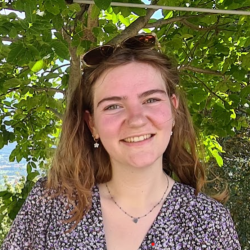 Hi! My name is Zjulie and I'm currently working on the 'Cortisol voor PTSS' (CovoS) project. Within this project we investigate early life adversities, associated epigenetic mechanisms and how these factors affect our stress response system. We also study whether glucocorticoid administration can enhance fear extinction, particularly in patients whose stress response system is dysregulated as a result of trauma. I will write my master thesis under the supervision of Laura de Nooij whilst completing my master's degree in cognitive neuroscience at Radboud University.
Before this master's program I completed my bachelor's degree in Artificial Intelligence at Radboud University. I have a broad interest within the neuroscience field, which can clearly be seen when you see which courses I am taking at the moment. Eventually, I would like to do research within a clinical environment. Therefore, I am excited to work at the CovoS project which offers such an opportunity.
In my free time I like to dance, travel, play saxophone or meet up with friends. I am always up for a quick (or long) chat paired with a cup of coffee.
---
Contact
Kapittelweg 29
6525 EN Nijmegen
The Netherlands
Donders Institute for Brain, Cognition and Behaviour
Radboud University Medical Center
P.O. Box 9101
6500 HB Nijmegen
The Netherlands